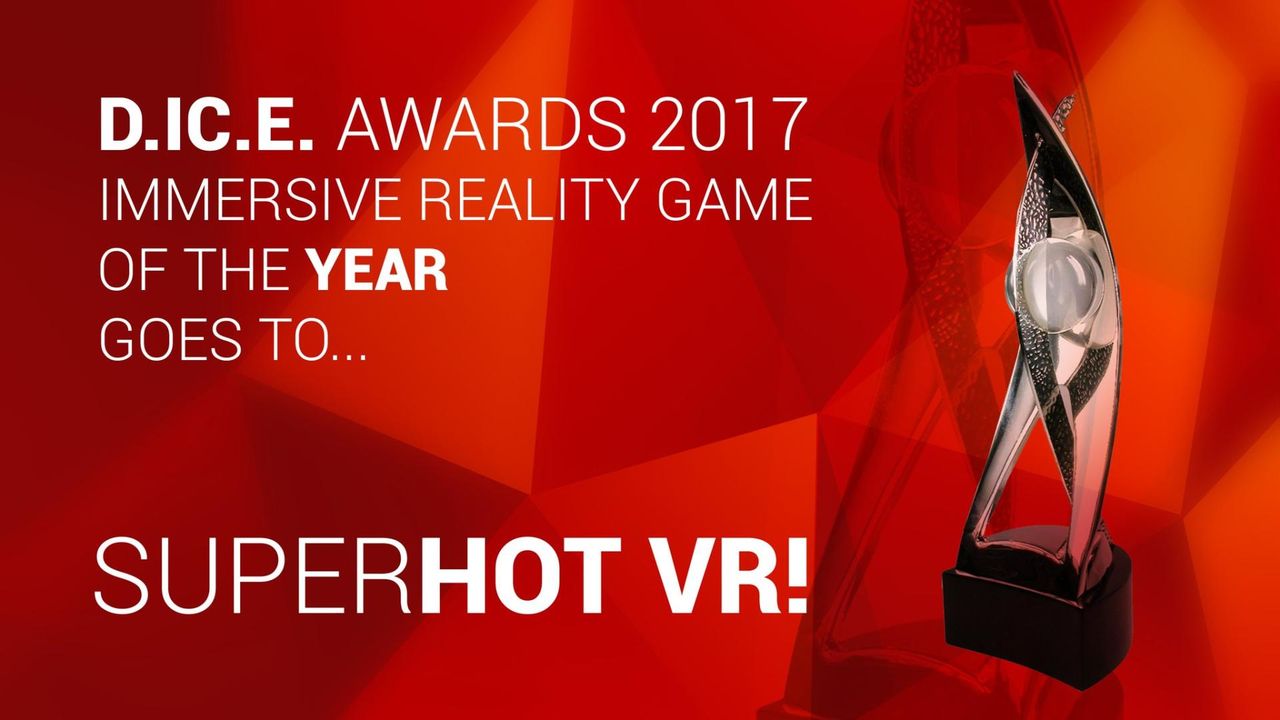 Najwięcej nagród zdobył Overwatch do spółki z Uncharted 4, ale o remisie nie ma mowy.
Rozdanie nagród amerykańskiej Akademii Sztuk i Nauk Interaktywnych znów ma polski akcent. Co ważne - ten akcent to już nie Wiedźmin, a SuperHot VR - gra niezależnej ekipy z Łodzi, która trafiła se swoim pomysłem w dziesiątkę. Nie tylko jeśli idzie o wirtualną rzeczywistość, wszak SuperHot podobał się i bez niej.
Ale uhonorowanie jego najnowszej wersji pokazuje, że Polacy rozumieją o co chodzi w tworzeniu gier na najnowsze technologie. SuperHot VR zwyciężył w kategorii Immersive Reality Game of the Year - jednej z dwóch kategorii, które debiutowały w tym roku. Polacy na pokonanym polu zostawili m.in. Ubisoft (Eagle Flight), Schell Games (I Expect You To Die) i Valve (The Lab).
W pozostałych kategoriach teoretycznie mamy remis. Uncharted 4 i Overwatch wygrały po cztery razy, ale to jednak sieciowa strzelanina Blizzarda zgarnęła tę najważniejszą nagrodę - wygrała w kategorii Game of the Year, bijąc właśnie Uncharted 4, Pokemon Go, Inside i... Battlefield 1.
Wyróżniono jeszcze m.in. Trico z The Last Guardian, muzykę z DOOM-a i obie najnowsze odsłony Pokemonów - te na 3DS-a oraz na smartfony. A sportową grą roku zostało... Steep.
Outstanding Achievement in Animation
Inside
The Last Guardian
Overwatch
Street Fighter V
Uncharted 4: A Thief's End
Outstanding Achievement in Art Direction
Battlefield 1
Firewatch
Inside
The Last Guardian
Uncharted 4: A Thief's End
Outstanding Achievement in Character
Call of Duty: Infinite Warfare - Nick Reyes
Firewatch - Delilah
Firewatch - Henry
The Last Guardian - Trico
Uncharted 4: A Thief's End - Nathan Drake
Outstanding Achievement in Original Music Composition
Abzu
Battlefield 1
Doom
The Last Guardian
Titanfall 2
Outstanding Achievement in Sound Design
Battlefield 1
Inside
The Last Guardian
Quantum Break
Uncharted 4: A Thief's End
Outstanding Achievement in Story
Firewatch
Inside
Oxenfree
That Dragon, Cancer
Uncharted 4: A Thief's End
Outstanding Technical Achievement
Battlefield 1
No Man's Sky
Overwatch
Titanfall 2
Uncharted 4: A Thief's End
Battlefield 1
Doom
Gears of War 4
Overwatch
Titanfall 2
Adventure Game of the Year
Firewatch
Inside
King's Quest: The Complete Collection
The Last Guardian
Uncharted 4: A Thief's End
Dragon Quest Builders
Lego Star Wars: The Force Awakens
Ratchet and Clank
Rock Band Rivals
Super Mario Maker for Nintendo 3DS
Fighting Game of the Year
EA Sports UFC 2
Guilty Gear Xrd - Revelator -
Killer Instinct: Season 3
Pokken Tournament
Street Fighter V
Driveclub VR
Forza Horizon 3
Role-playing/Massively Multiplayer Game of the Year
Dark Souls 3
Deus Ex: Mankind Divided
Hyper Light Drifter
Tom Clancy's The Division
World of Warcraft: Legion
FIFA 2017
Madden NFL 2017
MLB 16 The Show
NBA 2K17
Steep
Strategy/Simulation Game of the Year
The Banner Saga 2
Deus Ex GO
Fire Emblem Fates
Sid Meier's Civilization VI
XCOM 2
IMMERSIVE REALITY TECHNICAL ACHIEVEMENT
Eagle Flight
I Expect You to Die
Job Simulator
Superhot VR
Tilt Brush
IMMERSIVE REALITY GAME OF THE YEAR
Eagle Flight
I Expect You to Die
Job Simulator
The Lab
Superhot VR
1979 Revolution: Black Friday
Firewatch
Inside
Superhot
That Dragon, Cancer
Handheld Game of the Year
Dragon Quest Builders
Fire Emblem Fates
Kirby: Planet Robobot
Pokemon Sun and Moon
Severed
Clash Royale
Crashlands
Gardenscapes - New Acres
Pokemon GO
Reigns
Outstanding Achievement in Online Gameplay
Battlefield 1
Hearthstone: Heroes of Warcraft
Overwatch
Titanfall 2
Tom Clancy's The Division
Outstanding Achievement in Game Design
I Expect You to Die
Inside
Overwatch
Owlboy
Uncharted 4: A Thief's End
Outstanding Achievement in Game Direction
1979 Revolution: Black Friday
Battlefield 1
Inside
The Last Guardian
Uncharted 4: A Thief's End
Battlefield 1
Inside
Overwatch
Pokemon GO
Uncharted 4: A Thief's End