DICE Awards: The Last of Us 2 bezkonkurencyjne, Cyberpunk 2077 z jedną nominacją
Strona główna
›
DICE Awards: The Last of Us 2 bezkonkurencyjne, Cyberpunk 2077 z jedną nominacją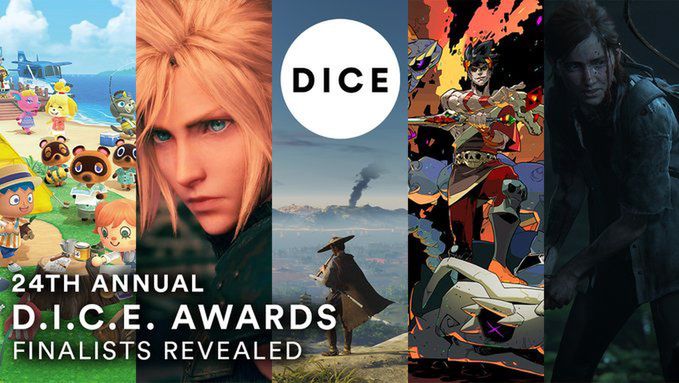 57 nominowanych gier, a i tak 11 nominacji powędrowało do "The Last of Us 2". Polacy muszą pocieszyć się dwoma nominacjami.

W Naughty Dog nie nadążają z&nbspchłodzeniem szampanów. Liczba nominacji, a&nbsppotem zgarniętych nagród już dawno przekroczyła wszystkie normy. I&nbspstawiam dolary przeciwko orzechom, że podczas rozdania DICE Awards "The Last of Us 2" znów zgarnie najważniejsze nagrody. W&nbsptym za najlepszą grę.
Ale tylko jedną nominację mniej otrzymało również "Ghost of Tsushima", które szczęścia do nagród nie ma, a&nbsposiem szans otrzyma "Hades".
Szukamy na liście polskich reprezentantów i&nbspznajdujemy dwóch. O&nbsptytuł najlepszej gry rpg powalczy "Cyberpunk 2077" od CD Projekt Red, a&nbspza najlepszą muzykę oryginalną wyróżniony został "Carrion" od warszawskiego Phobia Games Studio.

Zwycięzców poznamy 8&nbspkwietnia podczas 24 gali rozdania DICE Awards. Poniżej pełna lista nominowanych.
Gra roku
Animal Crossing: New Horizons
Final Fantasy VII Remake
Ghost Of Tsushima
Hades
The Last Of Us Part 2
Animacja
Final Fantasy VII Remake
The Last Of Us Part 2
Marvel's Spider-Man: Miles Morales
Ori and The Will Of The Wisps
Spiritfarer
Reżyseria artystyczna
Ghost Of Tsushima
Hades
The Last Of Us Part 2
Marvel's Spider-Man: Miles Morales
Ori and The Will Of The Wisps
Postać
Eivor Varinsdottir (Assassin's Creed Valhalla)
Zagreus (Hades)
Abby (The Last Of Us Part 2)
Ellie (The Last Of Us Part 2)
Miles Morales (Marvel's Spider-Man: Miles Morales)
Muzyka oryginalna
Carrion
Ghost of Tsushima
Little Orpheus
Ori and The Will Of The Wisps
The Pathless
Dźwięk
Dreams
Ghost Of Tsushima
The Last Of Us Part 2
Ori and The Will Of The Wisps
Sackboy: A Big Adventure
Historia
13 Sentinels: Aegis Rim
Ghost Of Tsushima
Hades
Kentucky Route Zero: TV Edition
The Last Of Us Part 2
Techniczne osiagnięcia
Dreams
Ghost Of Tsushima
The Last Of Us Part 2
Mario Kart Live
Microsoft Flight Simulator
Gra akcji
DOOM Eternal
Hades
Half-Life: Alyx
Marvel's Spider-Man: Miles Morales
Nioh 2
Gra przygodowa
Assassin's Creed Valhalla
Ghost Of Tsushima
Kentucky Route Zero: TV Edition
The Last Of Us Part 2
Ori And The Will of The Wisps
Gra rodzinna
Animal Crossing: New Horizons
Astro's Playroom
Dreams
Fall Guys
Sackboy: A Big Adventure
Bijatyka
EA Sports UFC 4
Granblue Fantasy Versus
Mortal Kombat 11 Ultimate
Them's Fightin' Herds
Wyścigi
DiRT 5
F1 2020
Mario Kart Live
Gra RPG
Cyberpunk 2077
Final Fantasy VII Remake
Persona 5 Royal
Wasteland 3
Yakuza: Like A Dragon
Gra sportowa
FIFA 21
MLB The Show 20
NBA 2K21
PGA Tour 2K21
Tony Hawk's Pro Skater 1 + 2
Strategia/symulacja
Crusader Kings 3
Desperados 3
Microsoft Flight Simulator
Monster Train
Per Aspera
Osiągnięcia techniczne w dziedzinie rzeczywistości immersyjnej
Half-Life: Alyx
Mario Kart Life
Museum Of Other Realities
Paper Beast
Tempest
Gra rzeczywistości immersyjnej
Down The Rabbit Hole
Half-Life: Alyx
Paper Beast
The Room VR: A Dark matter
The Walking Dead: Saints & Sinners
Gra niezależna
Coffee Talk
Hades
If Found…
Kentucky Route Zero: TV Edition
Noita
Gra mobilna
HoloVista
Legends Of Runeterra
Little Orpheus
Song Of Bloom
South Of The Circle
Gra sieciowa
Animal Crossing: New Horizons
Call of Duty: Black Ops Cold War
Fall Guys
Ghost Of Tsushima
Tetris Effect: Connected
Projektowanie gry
Ghost of Tsushima
Hades
Half-Life: Alyx
The Last Of Us Part 2
Marvel's Spider-Man: Miles Morales
Reżyseria
Ghost Of Tsushima
Hades
Half-Life: Alyx
Kentucky Route Zero: TV Edition
The Last Of Us Part 2